Gear Box Fitted Fire Pumps
Key Features


It is a multiplier step up gear box which is compatible with all kinds of our vehicle mounting pumps. We can provide ratios from 1:1 and above as per customer requirement. This unit is perfect for fire engines which have rated torque at low rpm.
Helical gears; made from special alloy steel, carburized, hardened and ground are mounted on an alloy steel shaft and installed in cast iron housing. Water cooling facility is provided for continuous operation. High quality double lip oil seals are provided which offer virtually leak proof operations for extended periods.


Primer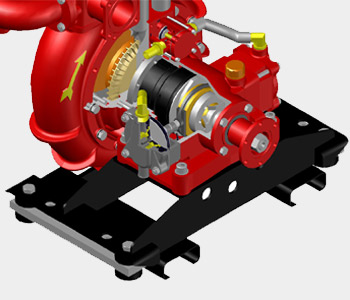 | | |
| --- | --- |
| | All 'Endura' series fire pumps are fitted with advanced 'E-Primatic' priming system |
| | Highly reliable twin piston horizontal reciprocating priming system which is automatic but at the same time gives the pump operator a choice to engage it only when needed. |
| | An in built electro-magnetic clutch gives drive to piston primer & actuation of primer is controlled by a pressure switch, not directly by water pressure. |
| | Primers can be operated in Auto Mode OR Manual Mode |
| | • Auto Mode - Whenever pump pressure is below 0.8 bar primer is engaged automatically & when pump pressure is above 0.8 bar primer is dis-engaged automatically. |
| | • Manual Mode - Engage the primer manually but once pump registers 0.8 bar pressure, primer is dis-engaged automatically. Once disengaged, Primer will not engage automatically even if pump pressure is below 0.8 bar. So pump can be operated at very low pressures without primers being engaged. This mode particularly developed for de-watering application where pump runs at very low pressure for pro-longed time. |
| | |
| | Easy to operate. |
| | Entire Priming system is made of stainless steel which makes it highly reliable. |
| | Variety of completely illuminated pump control panels are available. |
| | Capable of priming the pump from 9 meters at NTP conditions. |
| | Complies all EN 1028 requirements. |
| | |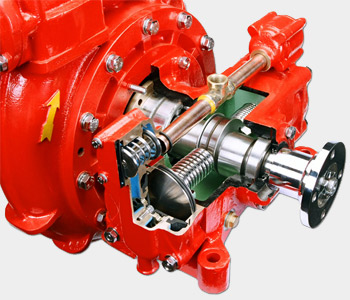 | | |
| --- | --- |
| | All series of vehicle fire pumps can be supplied with Primatic priming system. |
| | Completely automatic, highly reliable twin piston reciprocating priming system. |
| | An eccentric cam gives drive to piston & disengagement of primers is directly controlled by water pressure. Primer disengages automatically when pump registers 2 bar pressure. |
| | Complete priming system is made of stainless steel. |
| | Capable of priming the pump from 9 meters at NTP conditions. |
| | Complies all EN 1028 requirements. |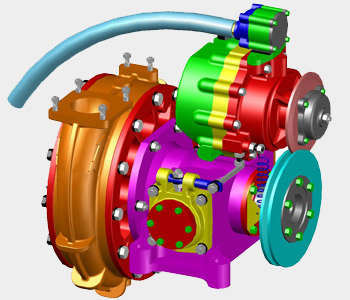 | | |
| --- | --- |
| | All series of vehicle fire pumps can be supplied with Water Ring Priming system. |
| | Completely automatic in operation. |
| | Available in three material options - Aluminium, Gunmetal (Bronze) |
| | Capable of priming the pump from 7 meters. |
| | |
Specification Sheet
TECHNICAL DATA SHEET FOR VEHICLE MOUNTING
PUMPS WITH GEARBOX
| | |
| --- | --- |
| • | Gear box can be attached to any firefly made vehicle mounted pump. To see specifications of pump go to required pump and download the respective technical data sheet. |
Specifications of Gear box :
| | |
| --- | --- |
| • | Gear case: - Cast Iron gear case. |
| • | Gears: Helical gears; made from special alloy steel, carburized, are hardened and ground. |
| • | Gear ratios: - Available from 1:1 and above (available as per customer requirement). |
| • | Shaft: Alloy steel shaft |
| • | Bearings: - Oil lubricated taper roller bearings. |
| • | Cooling system: - Inbuilt water cooling system is provided for continuous operations. |
| • | Recommended oil: - SAE 90 (3.5 liters). |
| • | Flanges to suit any requirements are available. |
Majorly we serve our products to customers from Bahrain, Iran, Iraq, Kuwait, Oman, Qatar, Saudi Arabia, UAE, Italy, Spain, Ukraine, Poland, Czech Republic, Belarus, Croatia, Slovakia, Cyprus, Estonia, France, Greece, Serbia, Slovenia, Algeria, Libya, Tunisia, Nigeria, Zambia, South Africa, Indonesia, Philippines, Lebanon and Singapore